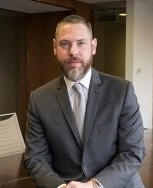 Noah Schwartz is a litigation associate of the Ferrara Law Group, previously being affiliated with Zarwin Baum in Philadelphia and Stark & Stark and Davison, Eastman, Munoz, Paone in New Jersey. Prior to entering private practice, Mr. Schwartz was a clerk for the Honorable Michael J. Hogan, P.J.Ch. (Ret.) in the Chancery Division, Superior Court of New Jersey.
Mr. Schwartz has a wide range of litigation experience in state and federal trial and appellate courts in New Jersey and Pennsylvania including commercial litigation, construction litigation, estate litigation, real estate litigation, policyholder litigation and business divorce litigation. He has argued and briefed appeals and dispositive motions and has first-chair trial experience before state courts and in private arbitrations.
Mr. Schwartz is a graduate of Rutgers University where he received both a B.A. and juris doctor. While in law school, Mr. Schwartz served at Notes Editor for the Journal of Law and Public Policy. At Rutgers, Mr. Schwartz was a member of the lightweight crew team and cycling team.